Special Diets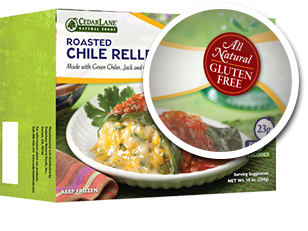 When you're following a special diet, it becomes very clear that not all food is created equal.
CedarLane is crystal clear about what's in our meals…and what's not. From the high-quality, all-natural ingredients to the amount of protein and sugar, we create exactly what you need to know right on the front of the box and on our online product pages. Whether your diet is vegetarian, gluten-free, high in protein, or sodium sensitive, we've got all-natural, quick-to-fix frozen meals to meet your needs.
The following four dietary preferences – Low Fat, Gluten Free, High Protein and High Fiber – are indicated right on the CedarLane box, with distinct color coding and clear labeling.
---
---

LOW FAT:
When you're committed to keeping the fat content of your food under control, go green! Our easy-to-read label makes it simple to locate low-fat options on the shelf…even when you're in a hurry. Just look for the "Low Fat" label on the front of the package.
---

GLUTEN FREE:
A gluten-free diet is free of wheat, rye, barley, triticale and any derivative of these grains. CedarLane offers tasty options that are gluten-free and full of flavor! Just look for the "Gluten Free" label on the front of the package.
---
---

HIGH PROTEIN:
Committed to a high-protein diet? We've got a delicious variety of protein-packed, breakfast-to-dinner options to please any palate. Many of our foods use soy protein. Just look for the "High Protein" label on the front of the package.
---

HIGH FIBER:
When high fiber is part of your healthy diet, CedarLane has your ideal entrée of choice. Just look for the "High Fiber" label on the front of the package.
---
---
OTHER SPECIAL DIETARY NEEDS
Vegetarian: CedarLane features a full menu of all-natural, scrumptious meatless dishes, fresh from farm to fork and immensely satisfying.
Peanut-Free: None of our frozen entrées contain peanuts or peanut derivatives. Our Baked Stacked Eggplant contains pine nuts in the pesto; pine nuts are a tree nut and a known allergen. Our manufacturing line is separate for this particular product and there is no potential for cross-contamination.
Low Sugar: If you're looking to limit your sugar consumption, find the red circle on any CedarLane package which details the sugar content. We make it easy to make healthier meal choices, both in the grocery store and in your microwave!
Sodium-sensitive: reduced sodium whenever possible to achieve the great-taste and nutritional content you have come to expect from CedarLane with artificial ingredients with YOUR HEALTH always our Top Priority!